NEW! deHavilland GM70
40 Watt Single Ended Triode Monoblock Amplifier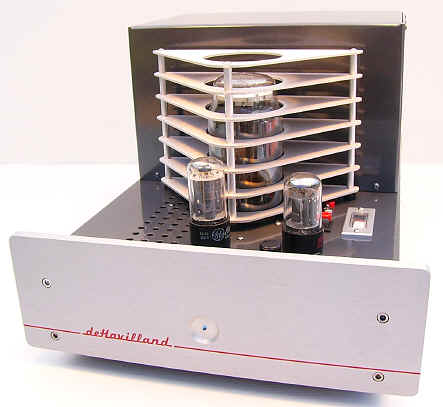 "But more importantly than all the checkered audiophile shopping cart goodies, this system communicated the emotional message of the music in a very otherworldly fashion that was the aural equivalent of Starship Enterprise's beam-me-up area", Srajan Ebean, 6 Moons ...more
deHavilland GM70
We are very proud to introduce the new deHavilland GM70. We have surpassed our our design goals and now offer 40 watts of purist design Class A SET sound from one single output tube. The deHavilland GM70 maintains all the virtues and more of our highly acclaimed deHavilland Aries 845G. With nearly double the power output we achieve lower distortion at normal listening levels and greater headroom that can be imagined for a SET design. To quote Dick Olsher, Senior Editor, for EnjoyTheMusic.com, "There's a new heavyweight contender in the high-power triode class. Neither a 211 nor an 845 can hold a candle to the Russian tank tube- the Ulyanov GM-70." Never before has a single ended triode amplifier been offered to the music lover with such performance.
The deHavilland GM-70 is a 100% pure class A single-ended triode zero negative feedback amplifier. The GM-70 directly heated triode vacuum tube is the largest output triode available in audio today. The sound is sweet, detailed, and stunningly dynamic. The 6AU5 combined with the Ulyanov GM-70 and innovative circuitry throws a huge soundstage, and maintains the right combination of pace, rhythm, and timing.
The deHavilland GM-70 amplifier produces 40 watts, and is designed to drive medium, as well as high efficiency speakers. The dynamic presentation is characteristic of an amplifier many times greater than its rated output.
In designing our Gm-70 SE amplifier we found that the Russian socket was poorly made and led to endless plate current instability problems. Also the sockets were not user friendly in terms of installing or removing the tube. We have found a great improvement sonically with our own manufacture pure electrical grade Copper/ Teflon socket. The bass and dynamics is markedly better , the mids and highs are better focused , and overall the amplifier sounds like it has more headroom. ...more.

There is no question of reliability with only three tubes per chassis, diagnosing any tube problems that might occur after time is relatively simple. With the on board bias meter, checking and resetting bias for optimum performance is a real snap. Quality, Value, and Performance, by deHavilland, "Hand made in California with a passion for sound since 1997"
Why SET amplification? go to Conversation with Chief Engineer deHavilland
Awards
"Standout Demo CES2006", Soundstage Network
CES 2006 "Best Rooms" by Roger Gordon
NEW! Best Bets 2005 by Mike Quinn, Jazz Times
NEW! Best 845 Based Amplifier CES2005 by Dave Glackin
NEW! A Tours De Fons CES 2005 by Marja & Henk, 6 Moons
CES 2005 by Dave Thomas, Stereo Times
Rocky Mountain Audio Fest by Robert Harley, TAS
Rocky Mountain Audio Fest 2004 by Roger S Gordon
CES 2004 Show Report by Roger Gordon, Positive Feedback
CES2004 From The Ears of Srajan Ebaen, 6 Moons
Top Sweet Sixteen Systems CES2004 by Dave Glackin
VSAC 2003 From The Ears of Srajan Ebaen, 6 Moons
VSAC 2003: Micro-watt Amps, Music and Microbrews, by Dave Glackin
Reviews
NEW! deHavilland Electric Amplifier Company GM70 SET Monoblock Amplifiers by Dick Olsher
NEW! deHavilland GM 70 Amplifiers by Mike Quinn, JazzTimes
NEW! GM 70 Review by Mark Hastie
deHavilland Aries GM70 Mono Amplifiers by Marc Mikelson, Soundstage
Israel Blume, President, Coincident Speaker Technology

"First Impressions"
deHavilland Single Ended Tube Power Amps, By J. Peter Moncrieff
Show Reports
CES 2005 by Dick Olsher, Enjoy The Music
CES 2005 by Wes Philips, Stereophile Magazine
CES 2005 by Greg Weaver, Positive Feedback
Rocky Mountain Audio Fest 2004 with Overkill Auidio
CES 2005 Report by John Broskie
CES 2005 by Srajan Ebaean, 6 Moons Report
CES and T.H.E. Show 2004, by Martin DeWulf, Bound for Sound
Rocky Mountain Audio Fest 2004 by Srajan Ebaen
Rocky Mountain Audio Fest 2004 by Steve Rochlin
VSAC 2003, Audio Musings, Dave Clark
VSAC 2003, EnjoyTheMusic.com, SteveRochlin
Design Specifications
power output 40 watts rms into 8 ohms
output class Class A
bandwidth 20-35kHz
power triode Ulyanov GM-70
driver tube Type 6AU5
input tube Type 12SN7 GTA/GTB
feedback zero negative feedback.
input impedance 50k ohms. (Values from 10k
to 500k available on request).
residual hum <2mv.
warm-up automatic time delay for long
tube life, and gentle startup
dimensions 12"w, 18"l, 10"h
weight 60 lbs.

Special Features
* Point-to-point hardwired audio circuit
* Electra-Print Co. transformers
* Cardas RCA input jack
* Cardas Gold Rhodium binding posts
* Paper & Oil coupling capacitors
* Hovland Musicaps
* Wonder Wire/ Wonder Solder
* Kimber Cable
* Silver or black anodized brushed aluminum front and rear panels
* Paint filled engraved logo
* Steel Gray High Gloss Metallic powder coated chassis
Pricing (as of July 10, 2009)
deHavilland GM70, per pair---------------------------$12,995.00
6SN7 Tube Rolling by Dennis Boyle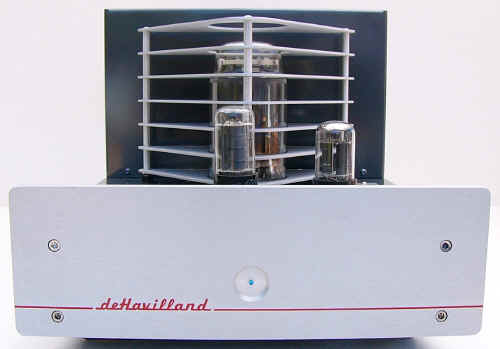 Award Winning Single Ended Triode Amplifiers and Preamplifiers
Home Products Quotes Shows Mission Q and A's Dealers Contacts