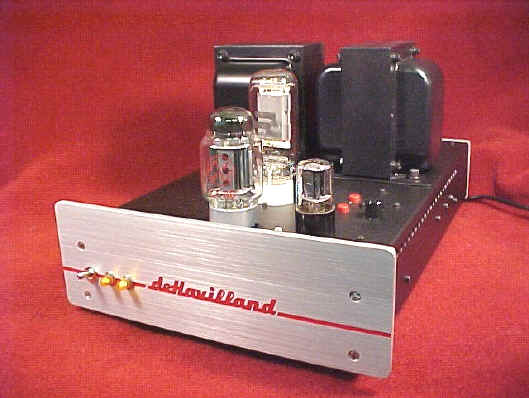 "Most other single-ended tube power amps can only dream of performance like this. " ...more
deHavilland Aries 572
product Information:
The Aries 572 is a 100% pure class A single-ended triode zero negative feedback amplifier. Unlike early SET designs, the output tube of the Aries 572 is a transmitting style tube capable of very high power handling. The tube compliment combined with innovative circuitry maintains the right combination of pace, rhythm, and timing. The Aries-845 amplifier produces 40 watts, and is designed to drive medium as well as high efficiency speakers. The dynamic presentation is convincingly that of an amplifier many times greater than it's rated power output.
Historically SE amplifiers have been limited in power, largely under 15 watts. Most listeners have had to employ horn loaded speakers. The Aries 572 amplifier will perform beautifully with your favorite loudspeakers whether they be medium efficiency dynamic or high efficiency horn type loudspeakers.
And think about reliability, with only three tubes per chassis, diagnosing any tube problems that might occur after time is relatively simple. Quality, Value, and Performance, by deHavilland , hand built in California with a passion for sound.
Reviews and Press Archive
Review by J. Peter Moncrieff, International Audio Review
Review by Bill Wells, The Audiophile Voice
By Bascom H .King, Audio Magazine
Review by Lang Phipps , Listener Magazine
design specifications:
power output 40 Watts RMS into 8 ohms
output class Class A
bandwidth 20-35kHz
power triode Svetlana SV-572-10
driver tube KT88
input tube 6SN7 GTA
feedback zero negative feedback to 8 dB, variable
input impedance: 50k ohms. (Values from 10k
to 500k available on request).
residual hum <2mv.
warm-up automatic time delay for long
tube life, and gentle startup
dimensions 12"w, 18"l, 10"h
weight 57 lbs.
special features:
* point-to-point hardwired audio circuit
* Electra-Print Co. transformers
* Edison-Price Copper binding posts
* Cardas Gold Rhodium RCA input jack
* Cardas Gold/Rhodium binding posts (optional).
* Hovland Musicaps
* Wonder Wire/ Wonder Solder
* Kimber Cable
* Clear anodized aluminum front and rear plates
* Paint filled engraved logo and beltline in red or black
* Black powder coated chassis
* Elma stepped attenuators (optional).

"Hand made in California with a passion for sound since 1997"
Home Products Quotes Shows Mission Q and A's Purchasing Contacts