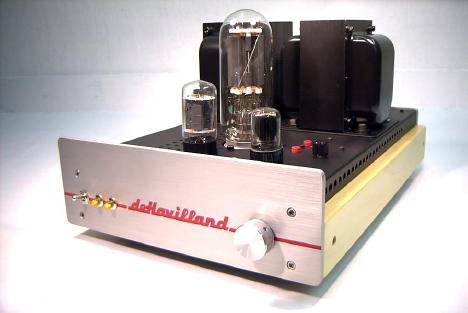 Early version Aries 845 amplifier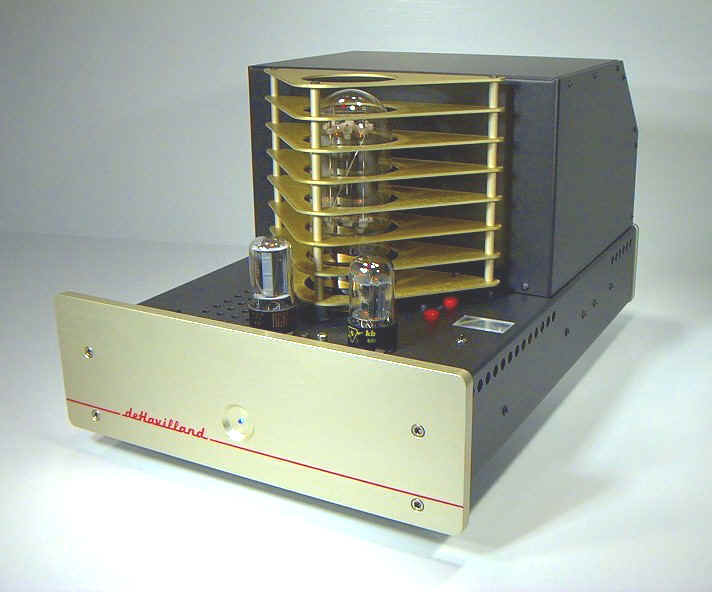 Later version Aries 845-G amplifier
"--- the midrange of the Aries-845 --- GLORIOUS! - acoustical instruments and the human voice are rendered with an ease and naturalness that rests and heals the spirit! A Ye Olde Editor's -- very highly recommended!"...more
Legacy Products: deHavilland Aries 845 and 845-G
product Information:
The Aries-845 is a 100% pure class A single-ended triode zero negative feedback amplifier. The Type 845 directly heated triode vacuum tube is justly famous for its sweet tone and authoritative presentation of music. The tube compliment combined with innovative circuitry maintains the right combination of pace, rhythm, and timing. The Aries-845 amplifier produces 22 watts, and is designed to drive medium, as well as high efficiency speakers. The dynamic presentation is convincingly that of an amplifier many times greater than it's rated power output
And think about reliability, with only three tubes per chassis, diagnosing any tube problems that might occur after time is relatively simple. Quality, Value, and Performance, by deHavilland , hand built in California with a passion for sound.
Reviews
Aries-845 Review by David W . Robinson, Positive Feedback Online
Aries-845 Review By J.Peter Moncrieff, International Audio Review
Aries-845 Review by Bob O'Neill, Bound For Sound
Aries-845 Review, by Marc Mikelson,Sundstage!
Aries-845 Review by John E. Johnson, Home Theater and Hifi Review
Show Reports
Aries-845 "Impressions" by David W. Robinson, Positive Feedback Magazine
deHavilland Aries-845 "2001 JIMMY AWARD" By Jim Saxon
Bay Area Tube Festival Impressions" by Al Sekela
HVT Magazine 2001 CES Report by Theo Wubbolts
CES 2001 Report by Charles McRobert
design specifications:
power output 22 Watts RMS into 8 ohms
output class Class A
bandwidth 20-35kHz
power triode Type 845
driver tube 6AV5
input tube 6SN7
feedback zero negative feedback.
input impedance: 50k ohms. (Values from 10k
to 500k available on request).
residual hum <2mv.
warm-up automatic time delay for long
tube life, and gentle startup
dimensions 12"w, 18"l, 10"h
weight 57 lbs.
special features:
* point-to-point hardwired audio circuit
* Electra-Print Co. transformers
* Edison-Price Copper binding posts
* Cardas Gold Rhodium RCA input jack
* Cardas Gold/Rhodium binding posts (optional).
* Hovland Musicaps
* Wonder Wire/ Wonder Solder
* Kimber Cable
* Clear anodized aluminum front and rear plates
* Paint filled engraved logo and beltline in red or black
* Black powder coated chassis
* Elma stepped attenuators (optional).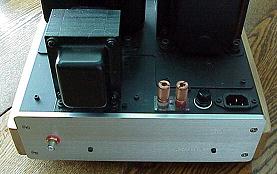 Standard features: Shown here with Cardas RCA input, and Edison-Price binding posts. The front and rear 1/4" plates are deep-anodized aluminum for maximum wear resistance.
This model superceded by Aries 845-G.

"Hand made in California with a passion for sound since 1997"
Home Products Quotes Shows Mission Q and A's Purchasing Contacts