deHavilland / KE Engineering
Model 222 Vacuum Tube Magnetic Tape Playback Preamplifier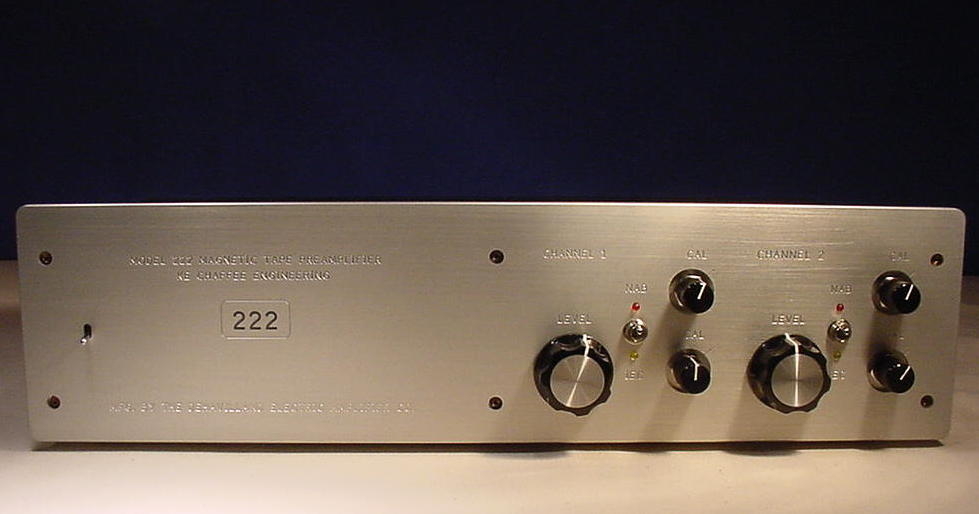 "Pardon my Corroboree, [Antill on Everest Recordings] but the sound
was istakootik (that's how Corroborees say f**king) fabulous. The depth
was tremendously exciting, the air around instruments nothing short of
amazing. The sound was just as involving as I've always experienced from
deHavilland electronics, and gratifyingly less dark. It was analog heaven
without the $15,000 phono cartridge and the $150,000 platter.
-- Jason Serinus , Stereophile Online Dagogo 2010 report.
Engineer's Notebook:
The Model 222 preamplifier was developed out of my experience of owning
many tape machines. My favorites were the full-on studio units from Ampex.
I based the sound and circuitry on these designs, and distilled them into this
preamp. It achieves the huge, friendly Ampex sound -- and is actually more
transparent than the original , and will fit in your livingroom.
Specifications:
* Switch Selected NAB or IEC equalization .
* Separate front panel HF trim controls for NAB and IEC.
* Output level controls for each channel , mil-spec potentiometers throughout.
* Gain 55 dB
* 68 dB signal-to-noise ratio
* Output approx 1v RMS for 0 dB tape level 250 nWb/m, 1.4mV PB head.
* Vacuum Tube circuit with tube rectification.
* Class A FET pre-preamp onboard
* Rear panel RCA jacks standard. Amphenol (Ampex) ,
or XLR jacks available for small upcharge.
* Output topology is SE.
* Tube Complement: (2) 12AX7 (1) 5687 (1) 6X4
* IEC power receptacle
* Size: 15" x 10" x 4-1/2" , weight 12 lbs.
* Introductory pricing standard model , $2295 plus shipping .
* Sprague original "Vitamin Q Paper-and-Oil" coupling caps upgrade, $100.
Contact Kara Chaffee directly at deHavilland .
Detail of front panel EQ Controls View of rear panel
Application notes Tape Heads and Tape Transports:
The Model 222 is designed to work with "classic high-impedance" tape heads as well as modern tape heads found in solid state tape decks. A typical tape PB head from a tube type Ampex was a "high impedance" head with an inductance of 500 to 1000 mH . Later era PB heads range from 100mH to 400 mH inductance. With very minor adjustment, the 222 will accommodate heads below 100mH .
Any tape machine in good working order can serve as a transport. Some machines such as the TEAC 7030 and 6010 have direct play head outputs. These cables are on the rear panel of the transport, and can simply be plugged into the Model 222, and you are ready to plug and play, without any modification needed.
Any tape machine can have the PB head output disconnected from the onboard playback electronics, and this output can be routed to connectors/jacks on the rear panel . A good bench tech should not have any problem doing this. It is a minor modification.